Weddings weddings weddings!  Such wonderful occasions where we see love in bloom.  But is there a sense that we've been losing the significance of ceremonial ritual in today's traditional weddings?
'Tis true, that under UK Marriage Law, there is little movement and flexibility for ritual and personalisation when you're partaking in a legal marriage ceremony.  This has led couples to concentrate more on the reception, the fancy stuff, the decor and food.  And don't get me wrong, there's absolutely nothing wrong with going all out to create a themed wedding through a more materialistic route and build a day that you and your guests are going to enjoy and remember…. but what of the ceremony?  Isn't that the reason the day is happening in the first place??
Fortunately, modern day couples are becoming more aware of their options, and their desire to personalise life's big moments more frequent, and this is why Celebrant-led ceremonies are becoming a more popular feature of the gargantuan industry that is weddings!  Why?
BECAUSE IT'S ALL ABOUT THE CEREMONY! and….
IT'S ALL ABOUT THE COUPLE!
I have conducted numerous weddings, and each and every one of them has been sublime and beautiful in their own ways… and all a privilege to lead.  But to explain further about the importance of ceremony, I'll use some images and examples from a wonderful ceremony that I was honoured to officiate for  my friends Kim and Sarah…. a beautiful couple… who are just as bonkers as I am!
Here they are: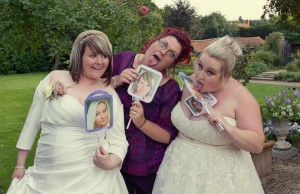 Now, Kim and Sarah's big day was always going to be about the ceremony.  It was a really big deal that they were to be joined in matrimony.  No, not because they are a same sex couple (we need to overcome this stereotype pronto people!), but because they had travelled a long and hard road to get where they were.  They succeeded where most would have failed, and the strength in their relationship was to be not only commended, but celebrated, and some half-hearted templated registrar delivery just wasn't going to cut the mustard.
They arranged to be legally married at the local registrar office with an informal registrar ceremony accompanied by immediate family a couple of days before their big public ceremony.  Now, there are varying ways for couples to go about getting their legal registration of marriage – see an earlier blog here that details the options.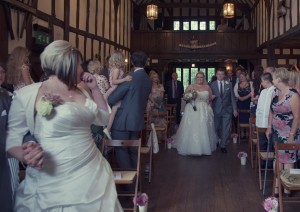 Just because couples have complete freedom to do as they please in celebrant-led ceremonies, it doesn't always mean they end up entirely wacky and without meaning! Far from it!  In fact, most couples I work with have some sense of tradition that they like to keep, such as walking down the aisle and the 'giving away' of a bride.  For Kim and Sarah, it was important to acknowledge the support and involvement of their two families, and that they were ultimately uniting on this day, so each father handed their daughter over willingly, uniting the Brides' hands together at the beginning of the ceremony.
Whilst tears were already a-flow, overcome with elation and emotion, the welcome and introduction from me proceeded to move to the part of the ceremony that was to honour the late mother of Kim.  Normally, this would be the part where the celebrant you hired would be incredibly professional and hold it together to allow others to feel the sentiment of the moment, no matter the circumstance.  However, those who know me well know I'm a big softie and rather sensitive, and with Kim's mother Ali being a very close friend of mine, I can honestly admit that I wholeheartedly failed… so we all had a good cry together!
A big beautiful memorial candle, situated aptly next to a sublime picture of Ali on her own wedding day, was lit by the couple to show that while she was not with us in person, her light and spirit were, and forever will be.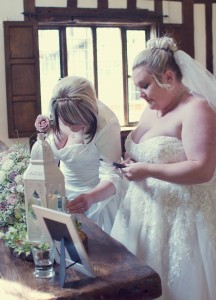 Then, as is customary with my ceremonies, we moved into the great part where their story is told, fond and funny memories recalled, and recounted how they came to be.  This is always such a beautiful moment for a couple on their wedding day, as it reminds them of the journey they have taken to get to this special day, and allows their family and friends to learn, if they didn't know already, what this couple and their relationship is all about.
You see, I portray weddings with two main elements to consider – the couple and their relationship together, and then the couple as individuals.  Whilst a lot of traditional wedding ceremonies concentrate on bonds of marriage, and 'you are now but one in marriage', I honestly feel that individuality is just as important. After all, they each bring unique qualities to their relationship, and they are just as unique in person.  And so, depending on the format and style the couple want, sometimes I'll get the parents involved at the script writing stage, and ask them to tell me details about what they were like as kids, their achievements, what they are most proud of, and their thoughts on the relationship.  Almost like a mini eulogy I suppose. But what other time do we really get to celebrate oneself without being dead?!
For Kim and Sarah, I had set them some homework, as I do most couples I work with.  This was a series of questions for them to complete in private many weeks before the wedding, to get them to really think about each other and what the day means to them.  On their wedding day, I simply deliver the answers which have been formatted as an expression of love. Neither had known what the other had written, and it's always a moment of great fun, laughter, emotion, and tears.  A truly divine moment.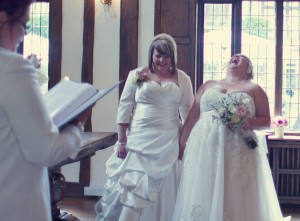 Readings and poetry also play quite a large role in many celebrant ceremonies, as where it can be difficult for a couple to articulate certain feelings or emotions, words from various authors/poets/lyricists can be a great way to express and summarise your own perception of your love, marriage, wedding and future.  Kim and Sarah had chosen 'Marriage Means Being in Love' by Chris Ardis, read beautifully by Usher Debbie, and later 'Marriage' by Anon, which is one of my favourites! (And I'll include a copy at the end of of this post)
And all the while, the flow and content of this ceremony is building up toward the significant moment where the two will exchange their vows, which was to happen next.  Many couples do things different ways – some like to write their own vows, some like to choose from a repertoire a celebrant has written, some like to promise the same vow to each other, others like differing ones, and some will even do duet vows or joint vows.  Kim and Sarah had carefully refined their vows which were unique to each other, encompassing everything that they wanted to say to each other at such an important moment in time, followed by the exchange of rings, provided by Best Woman Sally, again, including the careful choice of wording by Bride and Broom.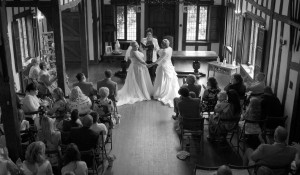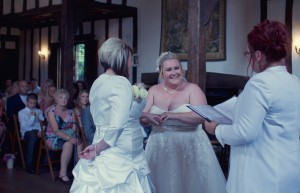 Symbolic rituals are certainly becoming more prevalent in recent times, where the couple choose to visually represent their promises or vows with an act of symbolism.  For Kim and Sarah, they decided to have a symbolic sand ceremony.  This allowed them to physically create an ornament that represented their marriage, of which they could take home and keep forever.  This ritual comprised of two containers of sand – one purple and one white – which represented Kim and Sarah as individuals. There was then an empty third vessel which signifies their marriage, (which they had beautifully engraved). The sand can either be poured simultaneously or layered – it's the couple's choice – but it signifies how their individual lives can reside beautifully within the vessel of marriage.
Kim and Sarah also poured ceremonial sand into a smaller special vessel which would find its home on the grave of Kim's mother.

After the pouring of sand to some gentle background music, the couple signed their ceremony certificate (something I offer with every ceremony) which not only allowed them to mimic the tradition of signing the register, but also allowed for their guests to come up and grab some lovely pictures and have a giggle.
Then all that was left was to bestow our blessings and best wishes to the happy couple as a congregation of family and friends, and edge towards the part of the ceremony that clearly both Kim and Sarah had been looking forward to…. the smoochy smoochy kiss!!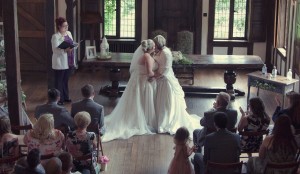 Of course, a lot of the above needs some imagination, because you really can't get a true sense of what 'content' and 'feel' a celebrant-led ceremony can give you until you've experienced it.  Many celebrants may be happy to share their scripts. I however, am not.  The script I had written for Kim and Sarah's wedding belongs to them, and to them only.  It was tailor written for them, about them, and with them, down to the last comma and foot note, and that process in itself is a magical one.  Obviously I know Kim and Sarah well… which often meant that our planning meetings were rather unproductive 😉  However, the majority of couples I work with are strangers that I crave to get to know, and so the process of building a rapport, and writing a script with them is priceless, and means that on the day they have familiarity, assurance and confidence that all will be just as they want.
So, if you're thinking of getting married, having a commitment ceremony, a renewal of vows, or wanting to celebrate your children with a naming ceremony, make sure you pick the right celebrant for you – get to know them, have some fun, build a friendship, and the whole event will truly flourish and be a significant memory for you to cherish for the rest of your life.
I hope this has been helpful.  Love and light to you all. x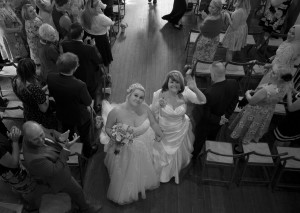 Marriage by Anon
 Marriage is about giving and taking
And forging and forsaking
Kissing and loving and pushing and shoving
Caring and Sharing and screaming and swearing
About being together whatever the weather
About being driven to the end of your tether
About Sweetness and kindness
And wisdom and blindness
It's about being strong when you're feeling quite weak
It's about saying nothing when you're dying to speak
It's about being wrong when you know you are right
It's about giving in, before there's a fight
It's about you two living as cheaply as one
(you can give us a call if you know how that's done!)
Never heeding advice that was always well meant
Never counting the cost until it's all spent
And for you two today it's about to begin
And for all that the two of you had to put in
Some days filled with joy, and some days with sadness
Too late you'll discover that marriage is madness.