I can't say it enough…. LOVE IS AWESOME! And as I love to say in my ceremonies, it really is the great unifier and our one universal truth.  It's the foundation of every single bond of friendship we are ever to build, and it's the one thing that offers true fulfilment in this brief life.  There's no greater feeling than loving another, or indeed to receive love in turn.
So it's no wonder that more and more couples are choosing a Celebrant to create and officiate their wedding ceremonies, to capture that true essence of a couple's unique relationship, and to put into words the very meaning of this broad and bodacious noun…. yet sometimes words are just not enough.
It's often true when they say actions speak louder than words, and this very sentiment if often incorporated into celebrant ceremonies, allowing people to create a visual representation of the feelings they're trying to express. Not only that, whatever physical representation you create, you get to keep it as a lasting reminder in the home!   And so in this post, we'll delve a little deeper into just a few examples of Symbolic Rituals for Wedding Ceremonies….
Ring Warming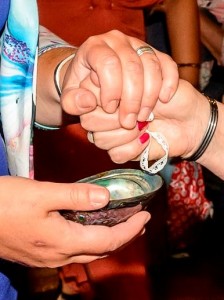 Bearing in mind that the Exchanging of Rings is actually a symbolic ritual in itself, many people like the sentiment of a ring warming, to further add depth of meaning when a couple give and receive their rings.
A ring warming takes place before the ceremony, where the rings are presented in some unique way (some on a cushion, some in a small bowl, and some on a wooden plaque… the choice is yours!) and your guests are invited, one by one, to place their hands around these rings, to hold them in most cases, and just take a moment to transfer their love, energy, blessings and good wishes into these sacred bands.
When it comes to the time for the couple to exchange in the ceremony, they know that these special rings have been blessed with the love and support of their treasured network of family and friends…. thus adding to the gorgeous warm fuzziness  they'll be feeling at such an important moment!
Blessing/Wishing Stones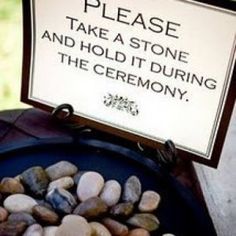 Stones are just one of many examples for this symbolic ritual – some have used a bowl of buttons, or sea shells, marbles even – but again, the role of this gesture is to have the involvement of the guests, and to not only acknowledge them as an important part of this relationship, but also again to harness that love and support of the network that surround, and will continue to surround the couple.
Before the ceremony starts, guests will take a stone (most couples will make up a sign, like in the picture, leaving the celebrant to explain the rest) and hold it throughout the ceremony.  Again, the aim is for guests to transfer their love, blessings, and best wishes into these stones – some even opt to either sign or leave a small message with a sharpie – and then at the end of the ceremony guests will return the stones into the bowl, and the couple can take them home as an ornament and lasting reminder of their special day, and all those who were there to support it.
Handfasting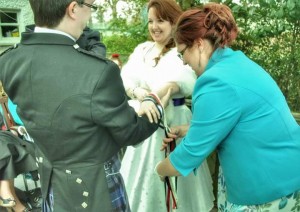 Ever wonder where the term 'Tie the knot' came from?  Well, you're looking at it!  There are so many different variations of Handfasting – from the traditional Neopagan customs to completely personalised and unique customs – but the notion of Handfasting is where the couple's hands are bound to represent their union and commitment in marriage (Just think of the movie Braveheart!).  They are bound either by a single sash, or a number of ribbons or cords, and can incorporate various meaning and wording to suit your needs.
Some couples also choose to involve other significant members of the family, such as step children, where they are all bound together to show the unity of the family.  Others may choose have their parents drape and tie the knots of these cords, and many take the time to make their own special cords/ribbons/sashes to add more depth to the ritual.
Sand Ceremony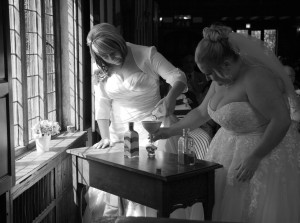 A symbolic sand ceremony allows couples to represent the coming together of two families through marriage.  Again, there are many variations, but generally speaking the ceremony consists to two containers of sand (of different colours) which represents the individual, and an empty vessel which represents the marriage.
There are two methods of pouring – either blending or layering.
By pouring the two sands simultaneously the couple create a new colour, so that whilst their individual coloured grains of sand are present in the vessel, it represents how their bond manifests into something even more beautiful. (Obviously be careful what colours you choose to blend!!)  By layering the sand, the couple show how their lives are united within the vessel of marriage, and how intertwined their lives will remain where the colours blend along the layered lines.
But of course, couples may wish to do both!  Let's say we have blue and pink sand – first a little of the blue is poured, then the same amount of pink is layered on top, and then the couple pour together to fill up the vessel with their blended sand, which would be purple.  Limitless options!
As with any ritual, significant members of the family can also be included here, just by adding another container of coloured sand.  It's colourful, fun, and breathtakingly meaningful!
Planting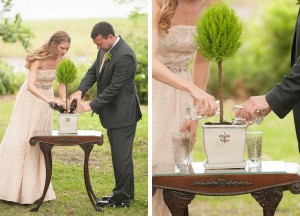 There is no better way to signify the beginning of a new life than to literally plant (or pot) new life – be it a tree, a favourite shrub, or plant.  This can be a gorgeous compliment to any unity ceremony, very rustic and earthy, great for outdoor weddings.  Some couples may choose to have soil taken from their parent's homes to pot their tree, to represent the foundation of love and nurture of their families.  Others may gather soil from their own homes, or even ask guests to all contribute.  Once the tree has been potted, the couple then give the plantation its first sense of life by watering it, thus beginning their new journey into marriage. (And don't be afraid to have some fun with this – recently one of my couples used their child's bucket and watering can!)
As your love and marriage develops and matures, so too will your plantation, and depending on your circumstances you might like give your tree a more permanent home in your garden.
Unity Candle
As two lives merge into one, two flames will merge into one with this traditional ritual.  Each of the couple have a taper candle, which is generally lit by the parents – either before or during the ceremony.  Then after the couple have exchanged their vows, they take their tapers, merge their flames, and light a central pillar candle which represents their marriage.  Again, there's many variations and ways to make it work specifically for your unique requirements, and it can also incorporate honouring a lost loved one too.
The Loving Cup (Quaich)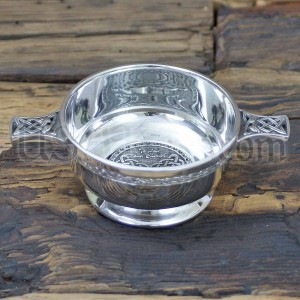 Made of silver, wood or pottery, the traditional Scottish ritual using the two handed drinking cup allows couples to share their first drink in marriage.  Drinking from the same cup symbolises love and trust and there are LOTS of ways to incorporate this into wedding ceremonies!  Some couples may choose to each hold a handle of the cup together as they drink, some may want to 'offer' and 'receive'.  Some may choose to incorporate more than one drink (Like a cocktail Mixing Ceremony!)!  It's not uncommon for couples to choose up to four drinking ingredients to involve other members of family, and make a point of adding each drink to the cup with meaningful words.  some couples may also invite significant members of the family to share this drink with them, again, to show the bringing together of two families.
Jumping The Broom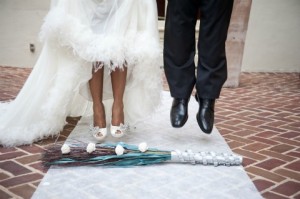 Symbolise the sweeping away of the old and the welcoming of the new incorporating this age old tradition.  The couple can physically and spiritually cross the threshold into the land of matrimony, taking the leap together. It also pays homage to those who came before us and paved the way, as an acknowledgement to the love and support of family, and the couple begin their new life together with a clean sweep!  Many couples also have lots of fun by decorating their own brooms!
~
These are just a few ideas of symbolic rituals for your wedding, and next time we'll look at….
The Oathing Stone
Sandwich Making Ceremonies
Time Capsules
Guest Bouquets
First Kiss – Last Kiss
Cocktail Mixing Ceremony
Stop the Clock