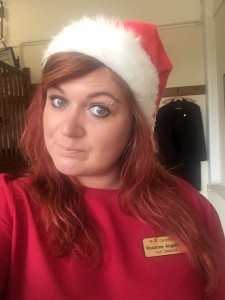 So initially, you may think a Christmas themed funeral service in the baking heatwave of July 2018 may be a little confusing.  Truth is, so many of us have been programmed to assume certain expectations of what a funeral service should be and should look like, and anything veering away from that expectation is often unduly judged and misunderstood. And that's not to say you're at fault here, far from it – this is all bred from tradition – and as I'm sure you've all heard a gazillion times…. this is a changing world! Personalisation, freedom of choice, personal preferences etc etc. Tis true!
As a Celebrant, not only is it my professional obligation to be completely flexible and open to ideas that families present (this role is about supporting my clients wholly, not about my own ideals, beliefs or opinions), but it's also my moral obligation to let any preconceptions or expectations flow clear from my judgement… but those who know me well will understand just how my heart sings when families and clients feel so empowered to do things their way, uniquely, and in a manner that they feel comfortable with.  This was the case with Walter's family.
Walter, an 87 year old good-humoured, genuinely sincere gentleman, had planned his own funeral.  He had open and frank discussions with his family before his illness became too great, expressing his wishes in beautiful detail.  Walter wanted a Christmas themed funeral.  Why?  Well, for a number of reasons: firstly, it was his absolute favourite time of year – a time with his family!  And secondly, he knew that this decision would lighten the load and make his loved ones gently smile on what would be an incredibly difficult journey. And that it did.
With the help and support from Colchester's Co-op Funeralcare (who I have to say I was very impressed with in this instance!) Walter's final wishes came into fruition. Funeral professionals were dressed up as Christmas characters, mourners in Christmas themed attire, there were wreaths instead of flowers, a beautiful lit up Christmas tree with presents, Christmas music… the lot. It was quite a sight! HOWEVER, all this paraphernalia did not trivialise the very real and valid sense of sorrow and sadness for this gentleman, it did not make a joke out of death. Not by any means. Rather, this scene comforted this family through their grieving process, allowing them to bring a bit of Walter's character into that moment as they acknowledged their loss and began preparing to say a physical goodbye to him.
A lot of work was put into the service content to capture the essence of Walter, bringing to light the gift he had been to all those who knew and loved him, and as always, I had the families input and guidance throughout the whole writing process…. even down to a comparative sentiment about the 1982 film The Snowman, and how it teaches us gently about death and loss.  Yes, even in celebratory funeral services it is soooo important to acknowledge death and the pain it brings, but in a gentle and warm way.
And so without delving too deeply into what was a very private moment for his family in the service, I will share some pictures that had been taken that the family are happy to have published, and hopefully these perfectly demonstrate that EVERY life is special and individual, and how you choose to process/cope/commemorate/celebrate/grieve is completely up to you.  There are people out there like me who are here to help.  It's all okay. x