Couple Ceremonies

"You are limited only by your imagination!"
When it comes to love, a standard template just doesn't work. No two couples will experience love the same, just as no two couples will want the same wedding ceremony.  Minister and Registrar led marriage ceremonies have to adhere to the law, and they have very little flexibility in allowing a couple the freedom to say what they want, declare their love in whatever way they wish, to symbolise their union through cultural or spiritual rituals or symbolic gestures, or have their special day at an outside location or in the evening etc….
Celebrants, however, can offer you complete autonomy!  Your wedding ceremony can be whatever you want it to be, it can include any wording, any content, at any venue at any time of day.  That makes it something quite special!!
[***Please note, celebrant-led ceremonies are not legally binding contracts under UK Marriage Law. No Celebrant can legally register your marriage in England, only licensed registrars and ministers are able to perform this***]
Take a moment to think of these two aspects separately – the registration of marriage, and a wedding ceremony.
Do you have a ceremony when you sign the birth register?  No
Do you have a ceremony when you sign a death register? No
Naming Ceremonies, Christenings, and Funerals are not legal ceremonies – they are rites of passage, symbolic ceremonies full of meaning and importance to all those involved.  The same applies to my wedding ceremonies.
By legally registering your marriage the day/s before your celebrant-led wedding ceremony, it does not devalue the significance of your union or your ceremony.  In fact, it gives you absolute freedom to create a ceremony with your celebrant that is truly personal to you, completely unique and a one-off experience.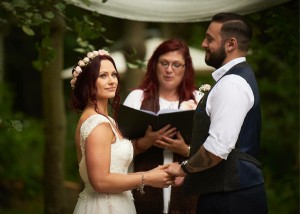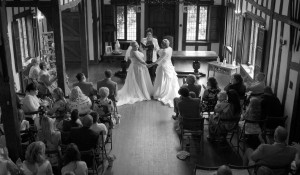 You can have that freedom with the ceremonies listed below:
Wedding Ceremony
This is a Celebration Ceremony for couples (of any gender) that happens after the legal formalities of marriage or partnership registration.  It can take place either on the same day or some time afterwards, but not before. The bespoke celebration ceremonies are designed to help you achieve the day of your dreams and I would work very closely with you both to create a personalised and meaningful ceremony that can include your choice of wording, readings, spiritual content or religious or symbolic elements. You are limited only by your imagination, allowing you complete freedom of choice to have your ceremony ANYWHERE, ANY TIME with ANY CONTENT.
*** Did you know that….
ONLY the declaratory words and the contracting words have to be said in a Register Office or licensed venue in order for your marriage to be legally recognised, and for a marriage certificate to be issued. You do not need a full ceremony to be legally wed.
Instead, have your public ceremony in front of family and friends in a location of your choice with a Wedding Ceremony, performed by a professional Civil Celebrant!
The Wedding Ceremony does not replace your legal formalities but is the perfect solution to some of the following:
Your want your wedding ceremony outside, perhaps at the beach or in a marquee.
You want your ceremony in a venue that isn't licsenced for marriages or civil partnership.
You want to get married abroad but also want to share your wedding celebration with family and friends when you return with a Wedding Officiant present.
You want religious or culteral content which aren't allowed at the Register Office or in a place of worship.
You want to include spiritual, religious or symbolic elements with a special meaning to you.
You want to accommodate for more guests that can be accommodated for at liscensed venue.
You want to declare your love and bonds of marriage in a truly unique ceremony.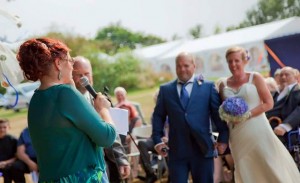 Some examples of Symbolic Gestures include:
Ring Warming
Handfasting
Jumping the Broomstick
Sand Pouring
Tree Planting
Unity Candle/Special Candles
…..the list goes on!
Get in touch to know more!
Commitment Ceremony
Simply put, Commitment Ceremonies are perfect for couples (of any gender) who wish to make a public declaration of commitment and love to each other, performed by a Civil Celebrant or Wedding Celebrant. These ceremonies can be a significant alternative for those who cannot or do not wish to marry but want to celebrate and recognise their life-long relationship either privately, or in front of guests. Again, this ceremony has no legal implications and can be performed ANYWHERE, ANY TIME with ANY CONTENT.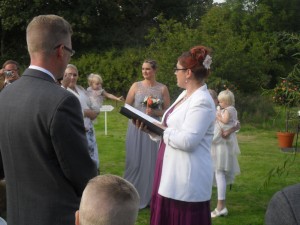 Renewal of Vows
A Renewal of Vows Ceremony is a wonderful opportunity to reaffirm the love and commitment a married couple (of any gender) share, and it often takes place when the couple reach a milestone anniversary. Similarly, there are no rules for content or location for this ceremony and it's a wonderful opportunity to incorporate your story into the script and to get children/grandchildren involved!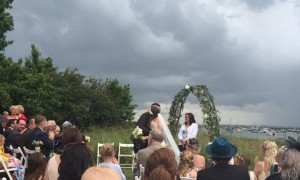 ______________________________
With Couple Ceremonies, I have enjoyed a wide range of styles in a variety of venues – and I have to admit, most of them have been out under the wide open sky!
Love is simply awesome, and I like to remind my couples of that often and unleash the sense of fun that comes with declaring a lifelong bond to each other.
If you want a more conventional occasion, great, let's go with that!
If you want a visual representation of your relationship with symbolic elements… super duper!
If you want a Game of Thrones themed ceremony… count me in! (P.S. I'm still waiting for a Labyrinth themed wedding please!)
Again, the inclusion of symbolic elements tends to be a popular route to visually represent thoughts and feelings on such a special day – everything from Handfasting, oathing stones, unity candles, to sand and planting ceremonies, jumping the broom and time capsules.
Beware…. I'm known for giving my couples homework… a true gem of a technique to extract those beautiful heartfelt thoughts about each other that have a central role in creating the ceremony.