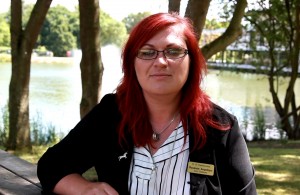 Well hello there!  My first official Blog post! One is certainly tackling the 'technophobia' that I have enjoyed for many years now!  However, things are a-changing  and I'll be beginning a new series of posts and videos over the coming weeks with lots of fabulous information for you all.
So, let's begin with a simple question: Why choose a celebrant?
The simple answer? AUTONOMY!!!
The beauty in celebrant-led ceremonies is the simple fact that families have complete freedom to create whatever they want for any type of milestone in life. It is not decided by me, or by a venue, an organisation, religion or philosophy…. it's all decided by you…. your preferences, your own philosophies and your own choices.  Simples.
Now, to me this is beautiful. To you… well, you may be thinking, 'Well hang on a mo… I wouldn't have the first idea where to begin!!'  And that's okay, and also part of the reason I'll be starting to  post some clarifications and communicate the options available to everyone regarding life's big moments.
So, a really great celebrant will work with a view to fulfilling a client's wishes, with no personal agenda, opinion or preference, and if that client has no specific preference the celebrant will gently guide them and talk them through what's available to them. Yes, we have tried and tested methods of what works well and how to achieve a good flow, and this should be discussed also, but ultimately it is the client's decision.
Let's take funerals for example.  Today, I have returned home from an extraordinarily beautiful funeral, where the family chose to lay their loved one to rest with a simple yet poignant burial first, and then head back to a lovely garden for a full memorial service afterwards, with music, candles, poetry, stories and some bubbly!  It was truly moving. Yet, almost every single guest communicated their amazement that a funeral could be done in this way…. and in fact there was an overwhelming sense that this was how funerals should be done. So personal. So unique. And it very much reflected the person they were paying tribute to today. (And I'll talk about various options in relation to funeral services in another post). Granted, this 'type' of funeral can be officiated by a Minister or Humanist too, however it's the tone and style of the service content that sets us apart, and my lovely families often speak of 'capturing the character' of their loved one and making the funeral entirely life-centred.
You may find that Ministers or Humanist celebrants will use a templated format in which they deliver their services, and will be fairly inflexible when posed with certain requests. Me on the other hand…. I'm all ears and will do whatever I can to help a family get through such a difficult stage of life, and so each service is crafted individually in relation to that one family, including any symbolic rituals they may like to include. (Again, I'll write another post about symbolism in ceremonies!)   Now, don't get me wrong, I have absolute respect for these professionals as they (well, most of them!) are fabulous at what they do when a family requests their services, and it's lovely that there is an option to choose a relevant professional when planning the funeral of a loved one. But there's that word again…. CHOICE.  That's how it should be, don't you think?
So what about wedding ceremonies? Well, Wedding Celebrants tend to veer away from the 'everyday'.  If you're after a traditional wedding and want to say the same vows that the majority of people in this country have vowed, then a church or register office is the ceremony venue for you.  And that's absolutely fine – remember, each to their own.  Us celebrants offer an alternative, and this alternative comes with some distinct benefits: the first being that you have access to unlimited locations.  Yes, your wedding ceremony can take place anywhere. Literally. I must admit, out of all the wedding ceremonies I've conducted, I can only count on two hands the ones that have been inside! This fact allows you to pick a wedding location that suits your styles and tastes, whether it's licenced or not! The second advantage can be found in the ceremony content – again, it's written exclusively for that one couple, detailing lots of wonderful (and often rather comical!) stories and facts, generally including a little storytelling about how the couple came to be, and the whole thing reflects their ideals and beliefs – whether they are religious, not religious, spiritual, or want to include cultural rituals. And, of course, you've got the vows!  This is where you can choose exactly how you want to portray your love and commitment in front of your family and friends. Some like the 'repeat after me' styles, some like to read off a card, and others like to do 'duet vows'.  A prominent element of these ceremonies is symbolism, whereby the couple choose to seal their vows with a visual representation of their marriage such as Handfasting, lighting candles, pouring sand… and lots lots more. (You got it – I'll do another post about this too!) Of course there is the small matter of your legal obligations in order to register your marriage, but we'll talk about that another time.
Whatever the occasion, the one thing that will set a good celebrant apart from anyone else, is the fact that our whole work ethic is completely transparent and inclusive.  Every word that I contribute to a ceremony is approved and guided by my clients. In turn, they can feel totally reassured knowing that they've had ownership over their event and it will run according to their requirements. And of course, they have the added bonus of my round smiley face to greet them on the day, and to walk them through that important moment.  After all, smiles are infectious!
So there you have it, a very brief overview of the benefits of using Civil Celebrants to mark life's special moments.  There will be lots more to come in the coming weeks and months, but remember, if you want to know something – just ask!  I'll endeavour to answer as concisely as I can.
Thanks for reading.
Love and light x