[Written in the July of 2018]
Hello lovelies.
So this takes some courage to post. As you all know, I'm all about advocating for bereaved families, sharing good practise and instigating change for the greater good.  For some months now I've had to take a little step back and concentrate on some self love – because after all, you can't pour from an empty glass hey?!  But I have the greatest teacher, along with having the most inspirational 'nudge' from a beautiful 15 year old who I have held close to my heart for many years.
Meet Lea: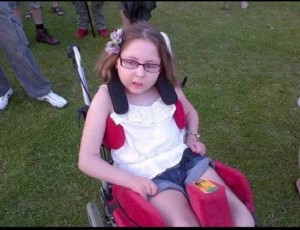 This picture was taken some years ago, but she was 15 when she died, in May this year.  This beautiful serene, cheeky and unassuming specimen of a human being has taught me so much about life, love, loss and everything in between, and with the permission of her family, we would like to share with you her final journey, and hopefully you'll be able to see just how death is not a 'one-size-fits-all' kind of situation.  Of course, you should know this already, but when it comes to planning your goodbyes, still very few people are aware of the freedom they have to do what THEY want to do, and not what is expected of them.
And so, Lea's family always knew that they wouldn't be having a funeral as such.  That first physical goodbye is among the hardest, and for these guys it was a very personal and private matter that would allow them to process Lea's death before setting about celebrating her life in the presence of their wider community of family and friends.  And so, a direct cremation was arranged to honour Lea's body.  Now, direct cremations have no service, no attendees, and often happen at a time that is convenient to the Funeral Director, using a private ambulance to transport the body.  In this case however, I was wonderfully refreshed to witness the understanding approaches from industry professionals in this locality – namely the Funeral Director's Michael Smy in Ipswich, who undertook the wishes of this family with no qualms and with full attention and compassion.
Before I go any further, I'll give you some backstory, Lea was born imperfectly perfect, but she was a real tough cookie – and funny too! She loved a lot of things in life – baths, chocolate, music, chocolate, cuddles, chocolate, and fibre optic lights.  Did I mention chocolate???  She also liked motorbikes – the sounds, the smells, the sights – and a local motorbike club by the name of The 4Fs MCC had supported Lea for many years, holding big annual bike rallies to raise money to help her remain as comfortable and happy as possible with her family.
It seemed only natural that Lea's final journey would incorporate the two wheeled steeds that she so loved, and so with the help of the 4Fs and many other bikers who had been touched by Lea's story over the years, a bike escort was arranged to accompany Lea to the crematorium.  Over 40 bikes and trikes turned up on the day (including me on my butterfly covered Harley Davidson) and the ride to the crematorium was like no other I had experienced, and it was very heart warming to see so many road users offer patience and understanding as we made our way to Seven Hills Crematorium.  Once there, bikes lined the processional drive, offering a 'rev salute' as Lea and her family passed.  This action in itself was overwhelmingly powerful; each one of us reduced to bare emotion and allowing that emotion to flow through the growl of our throttles.  The noise was almost deafening yet so peaceful. It was indescribable.
It was arranged so that once Lea had been carried into the chapel, her family could spend some quiet time with her listening to her favourite music – from Adele and Birdy through to Linkin Park and The Kooks.  They were also armed with sharpie pens, allowing them to write messages or draw little doodles on her coffin as a way of active grief – physically doing something to allow the flow of expression.  Personally, I was profoundly impacted by the power of actions over words. No words were spoken…. they didn't need to be.  It was all about just being present, using the senses to experience personal grief without having auditory direction, and for the family…. well, while it was one of the hardest things they've ever had to do in their lives, they at least felt safe in the familiarity of each other, without the addition of other people present or prying eyes which often forces families to present themselves in a way that is perceived to be expected…. i.e. strong and stoic, wearing a face of acceptance and formality. BUT the truth about grief is that it's raw, savage, ugly, embarrassing and unpredictable and 'funeral services' are not normally a place where people show that vulnerability. But this family could – together, united – and it's that authenticity that perhaps got them through.
 The video below captures Lea's final journey to the crematorium:
Once emotions had settled a little, a Butterfly Memorial was held in one of Lea's favourite places: in front of a great old oak tree called Old Knobbley. We spoke of Lea's life and her character; her quirks, her likes and dislikes, her daft humour and how she made us all smile. Guests were invited to share their memories, and I was humbled to witness speaker after speaker share their experiences of Lea and all the things she'd taught them in life.  Several pieces of poignant poetry were read by key members of the family, and as a final tribute 15 butterflies were released into the wilderness; each honouring one year of Lea's life; each with a statement of gratitude read by a family member; each with so much meaning for everyone.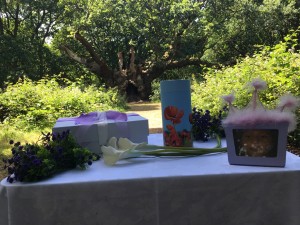 Bringing the woodland service to a close, we made our way back to the local village hall.  The video of 'Lea's Final Journey' was shown, bringing that moment into the here and now for all these people that knew and loved her.  The bar opened, food was served, good cheer commenced and a lot of laughs ensued with a slide show of Lea throughout the years, and later that afternoon biodegradable helium balloons were released, having been written on by all the guests. And yes, we remembered to cut off the ribbons so that there'd be no damaging impact from releasing balloons 😉
And so the metamorphosis was complete for Lea…. (and boy have we seen a lot of butterflies since!) but this journey of growth and transformation is just the beginning for her family, as it is for anyone who loses a loved one, but what a natural, nurturing, loving and healing way to begin that journey…….