A themed wedding you say?  What does this mean?  Is your mind trawling through colour schemes, floral designs and decor styles?  Or are you thinking through the characters of Star Wars, Game of Thrones or perhaps an era like the  20's Flappers or the neon colours of the 80's?  Either way, you're right on the money.
Now, weddings already have a full laundry 'to-do' list, so don't forget that YOUR wedding is UNIQUE to you, whatever you do, so you don't NEED a theme.  But… if you do want one, and you've got the budget to match, you might like to take your wedding to a whole new level and incorporate something spectacular that gets all your guests involved… and I have the most superb example to share with you from the early summer of 2018.
Meet the wonderful Lord and Lady, Gary and Marga: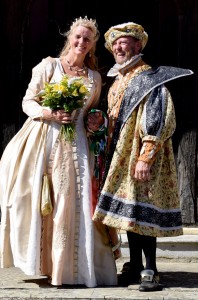 Don't they look amazing!!
Gary and Marga live in a beautiful Tudor home, with ample space in the garden that could allow their creative juices to really flow!  And so it was decided that they would have a Tudor wedding… and the attention to detail, the sense of fun and the effort that everybody made to look the part was simply INCREDIBLE!
With the large oval marquee up, it was filled and decorated with large banquet tables and goblets for mead, wooden plates and mugs for the feast (and traditional cutlery for those not wanting to use their hands!), a pair of beautiful thrones for our Lord and Lady, trinkets of decorative armour and ornamental ivy, crest tapestries and flagged bunting, a tower of tankards,  and a host of  LED candles and soft string lights from above…. not forgetting the dance floor!  It all looked absolutely stunning.

Now the great thing about celebrants is that your wedding theme doesn't just become something you see and touch… it becomes the very part of your ceremony, bringing the magic of the theme alive in a significant way through words and actions that is relevant to your relationship and marriage.  This was certainly the case for these two, and in order to fully participate I delighted in becoming 'The Cardinal of Wolsey' to officiate the proceedings.
Yup, there I am!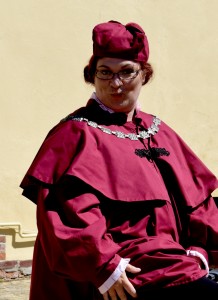 Fortunately the big day was met with beautiful weather, and what a joy it was seeing their guests arrive all clad in their Tudor attire – from ladies in waiting and maids, lords and knights, to monks, bishops and jesters, and a minstrel delighted guests with live performances both for the ceremony and throughout the afternoon.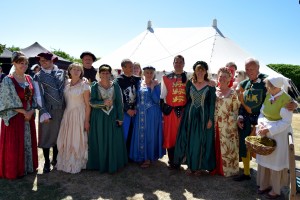 The Lord and Lady's ceremony included a nice balance of Tudor language delivered in character, and 'just Roxy' in order to get across the meaning and significance behind some of the rituals…. of which there were many.
Gary and Marga's story was told through a creative limerick and delivered as a performance, and guests were invited to show their support to the couple with a collective 'Aye!'. As I do with most of my couples, some real deep sentiments and well thought out feelings (along with lots of laughter) was experienced when delivering their  'homework' answers before then witnessing the couple exchange their personally written vows, with just as much gusto, expression and array of emotion.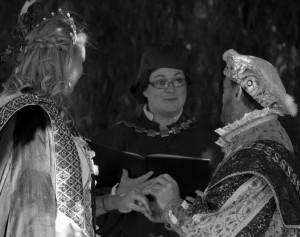 Rings were exchanged to seal their vows before moving on to acknowledge the bringing together of the two families. For this we used handfasting…. but with a twist.  Between them, Gary and Marga have 5 children, and each of them made a special handfasting cord that represented themselves.  I then made our lovely couple a marriage cord, combining red and gold (their themed colours symbolic of passion, strength, energy and longevity) along with ivy which represented the fidelity, resilience and eternal hopes for their marriage together.  Their  marriage cord was first draped over their wrists with significant words before Gary and Marga shared a drink of mead from what we called 'The Loving Goblet' (showing complete trust, because back in the day the sharing of a drink in marriage ceremony proved that the drink wasn't poisoned!)
In a show of unity, each child then in turn came and draped their own handfasting cord over the wrists of Gary and Marga, before sharing a drink from 'The Loving Goblet', and once all cords were in place, they were tied (yup, tying the knot!) binding the couple together with the promises and vows of their special day.
I think we were all grateful for the rehearsal a couple of days prior to knuckle down on some of the logistics and movement throughout the ceremony for all involved, and the day itself went incredibly smoothly…. even down to the placement and angle of the sun.  Perfect!
There were cheers-a-many as the proceedings came to an end with the announcement and introduction of our newlywed Lord and Lady, and all guests followed the minstrel to the front of the marquee area for cake, mead, good cheer and entertainment before the feast.
Just fabulous!
Here are a few more snippets of their wonderful day, courtesy of the fabulous Molly at MMWM Photography